This edition of the COE blog is co-authored by Julie Austen, PhD, and Lisa Tyndall, PhD, LMFT. Dr. Austen is an Implementation Specialist at the Frank Porter Graham Child Development Institute at the University of North Carolina at Chapel Hill. Dr. Tyndall is a Senior Integration Specialist at the Center of Excellence for Integrated Care at the Foundation for Health Leadership & Innovation. Julie is healer who works at the systems level. With expertise and lived experience at the intersections of health psychology, integrated care, community capacity building, knowledge transfer, and minority wellness, she serves as an implementation specialist with UNC's Frank Porter Graham Child Development Institute.
Colleagues for a decade, Julie and Lisa's "forward together" paths crossed when they realized that integrated care cannot move forward without an intentional focus on the "how." Now, the COE team and Julie partner together to strengthen access to evidence-based practices related to healthcare systems reform.
Implementation in a Flash
Long ago, Plato declared, "Necessity is the mother of invention." The recent COVID-19 pandemic has birthed many new and necessary elements in America's healthcare system. Clinics large and small have re-tooled themselves and have had to work with patients to get their needs met in new and creative ways. As the country's experience of the pandemic has progressed, we have learned that this process was both a sprint and a marathon. While systems became creative quickly in how to do their work safely for all, now many of them have a chance to come up for air and take a look around to better understand how to sustain that work. And in fact, many are asking themselves, if this isn't over, how do we handle a second potentially steeper wave? Where are we in this process of developing our protocols, new programs, or new workflows?
Now is the time for clinics to prepare themselves for this second potential wave by pausing to reflect on their progress, timelines, needs, and capacities. The good news is, this timeout to evaluate is actually built into the implementation science framework.
Implementation science provides a framework for best practice in how to implement an evidence-based practice, program or policy, for example implementing telehealth like so many clinics did in rapid time these past few months. Focusing on an implementation science framework can help us find our way through the complexity of change, identify where we are, and plan for what we still need to do. Researchers have identified four stages of implementation when systems are making changes: exploration, installation, initial implementation, and full implementation. Keep in mind, to arrive at full implementation of an effort, where the new initiative is fully folded into the clinic, typically takes up to 3 – 5 years! So, considering the typical timeframe for implementing changes, it would be completely understandable for clinics to feel a need to re-orient themselves for the long haul at this point in time just a few months in to any new initiatives brought on by this pandemic. It is for this reason that we turn to the implementation science to help us organize, co-create, optimize, and innovate.
Let's look at a stage-based framework as a way of thinking about where your clinic is in a particular process. As your clinic comes up for air, we recommend identifying the stage of implementation by asking a few questions associated with each stage and then using that information to guide your next steps (Metz, Naoom, Halle, & Bartley, 2015).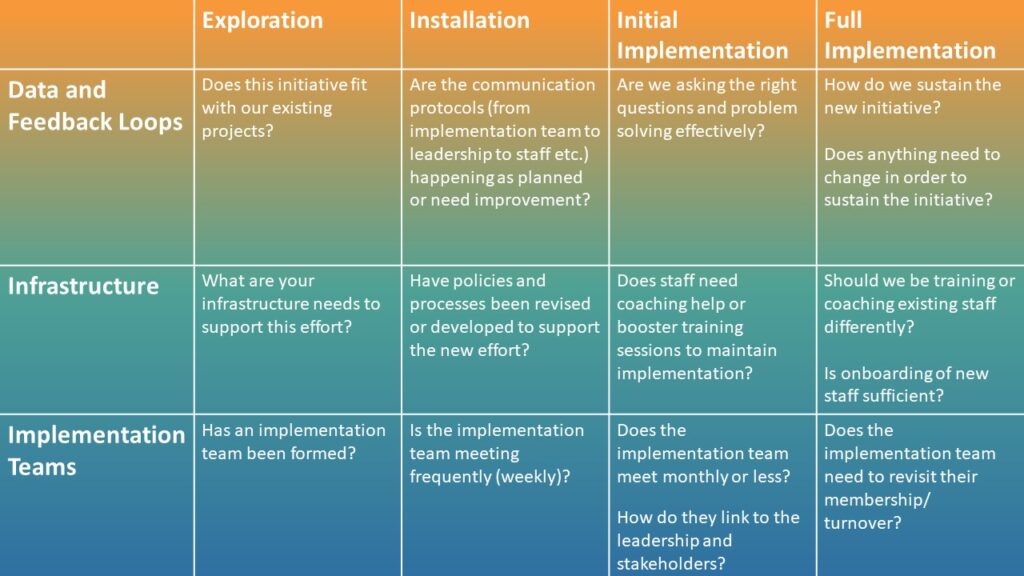 Examine the table above that highlights the three core implementation elements as identified by Metz, Naoom, Halle, and Bartley (2015): implementation teams, data and feedback loops, and implementation infrastructure. Think about an initiative you may have just started or will start soon. What processes or pieces have you completed so far? What pieces do you need to circle back to? Who needs to help?
For example, if a clinic has never implemented telehealth for any of its providers, that effort likely became a necessity due to the pandemic. Now, thinking about the creation of that workflow and those clinic processes, who developed or thought through those new processes of telehealth check-in, billing for telehealth, or best practices for telehealth? Was there a team of people? Did that team represent all of the parts of the clinic that it needed to represent? Has that team continued to meet, or did the meetings get disregarded once things picked up speed? Thinking through these questions can help you see where you are and where the clinic needs to go next. Once a new initiative begins we often underestimate the amount of time it takes to successfully implement to the full implementation, this is a good time to reflect on what has already been accomplished and what steps to take next to make it "stick." (See Metz et al. 2015).
If you look the table above and are still wondering where to begin, a great place to start is identifying needs at the community, organization, clinic, and individual patient level. From there, you'll be able to identify what your next goals could be to help guide you towards the next activities of implementation. Interested in obtaining assistance in helping making your implementation of integrated care stick? Feel free to reach out for a consultation with our team.
References:
Bertram, Rosalyn & Blase, Karen & Fixsen, Dean. (2015). Improving Programs and Outcomes: Implementation Frameworks and Organization Change. Research on Social Work Practice. 25. 477-487. 10.1177/1049731514537687.
Metz, A., Naoom, S.F., Halle, T., & Bartley, L. (2015). An integrated stage-based framework for implementation of early childhood programs and systems (OPRE Research Brief OPRE 201548). Washington, DC: Office of Planning, Research and Evaluation, Administration for Children and Families, U.S. Department of Health and Human Services.
Posted in Resources