At COE, we are here to support the integration of physical and mental health to promote whole person care.
A Path to a Paradigm Shift
The Foundation for Health Leadership & Innovation's Center of Excellence for Integrated Care (COE) has been grateful to play a role in North Carolina's journey towards whole person and integrated behavioral health care, alongside an amazing statewide network of entities, agencies, and individuals passionate about health care in our state. With the call for the recognition and incorporation of treatment of the whole person in North Carolina's healthcare system, we felt it was time to take a look back at how far we have come as a state.
We are excited to share this review of literature, which was done as an homage to all of those involved in the development and implementation of integrated behavioral healthcare in North Carolina. Every effort was made to be as thorough as possible, but we also acknowledge that to truly shift a paradigm it takes change on multiple levels of multiple systems. Therefore, it is likely that we did not capture all of the efforts and all levels of complexity in this review.
Additionally, we recognize that there is more work to be done, and more whole person elements to include, to develop a seamless, whole person care system in our state. This movement — this paradigm shift from siloed care to whole person care — has been and will continue to be a collective effort, and this publication is one small piece of the puzzle that adds to the historical body of knowledge of North Carolina healthcare. We hope you enjoy it!
Opportunities for Child Wellbeing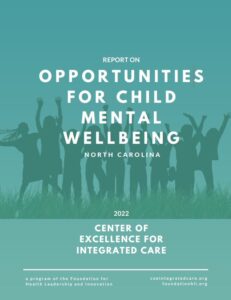 Our role in North Carolina's Journey towards whole person integrated behavioral health care continues with our collaborative project to build more support in our state for child and adolescent behavioral health assessment, prevention, and intervention. Before and during the COVID-19 pandemic, families, communities, health providers, leaders, and stakeholders were strategizing about improving the behavioral health of children and youth. During the pandemic, family and community experiences escalated this call to action to an urgent and crisis-level need. We have been fortunate to partner with the i2i Center for Integrative Health to explore opportunities for child mental well-being in North Carolina.
In the Fall of 2021 we started engaging various healthcare and policy leaders, health providers, and community members to learn about the status and mechanisms for preventative mental health care for children in our state. We were disheartened by some of the stories of challenges with behavioral health access for children, and yet also very enthused and energized by the interest and commitment to supporting more preventative and interventive services for children and families.
We are excited to share this summary of what we learned and ideas for the future of mental well-being for children in our state. We know we have not captured all available information, and we welcome you to reach out to our team to share insight and expertise about establishing preventative mental health care.