The Center of Excellence for Integrated Care (COE) provides the training necessary to improve and grow the skills and competence of providers, staff and leadership to support the implementation of whole-person care.
The COE provides training to organizational groups as well as to communities of providers with shared interests and learning needs.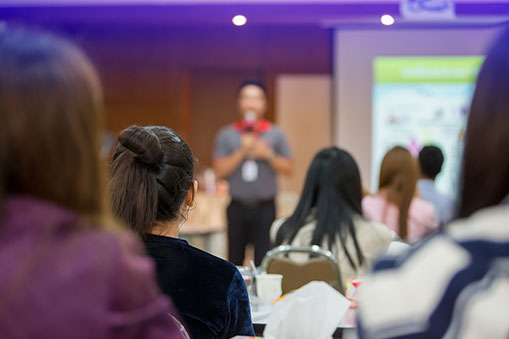 We design training to meet the needs and size of the audience and the duration of the training. For example, one COE staff person for a one-hour training with 5-10 individuals compared to our full team for 40+ individuals for a half- or full-day presentations.
We want your audience members to feel fully engaged and believe in small staff-to-learner ratios whenever possible. We aim to provide hands-on experiential learning for audiences, understanding that one of the key components to make training applicable is matching learner needs with the topics and material presented. While training is typically presented by COE expert staff, we may also find other expert partners to facilitate your training needs.
The staff at COE can adapt presentation styles to a variety of location sizes and accommodations. We are happy to meet you and your staff where you are and make both the foundational and more nuanced elements of integrating behavioral and physical health digestible and applicable.
Trainings include: 
On-site trainings; one-hour, half or full day trainings, with topics that strategically match integration goals
One-on-one individual training tailored to specific staff needs, with follow up observation and coaching
Live webinar presentations and webinar series
Online integrated care curriculum with special topics and learning modules
Example training topics include but are not limited to:
Administration, Scoring and Interpretation of the PHQ-9 for Clinical Staff
Assessing and Responding to Suicidal Ideation and Suicidal Crises in Primary Care
Brief, Evidence-Based Behavioral Health Interventions for Primary Care BHCs
Integrating Health Goals into Behavioral Health Treatment Plans
Organizational Approach to Provider and Staff Burnout
The Financial World of Primary Care Behavioral Health Integration
Stage-Wise Interventions for Treating Co-Occurring Mental Health and Substance Use
A Whole Person Approach to Chronic Pain
Elements of Successful Team-Based Care
Schedule a consult to see what trainings would benefit your clinic most